Custom
Embroidered Clothing
Made to order clothing with needle and thread embroidery is a superior method of adding your logo, name, or image onto bespoke apparel. Thunderwear™ offers a smooth and seamless online experience for creating your own branded designs with our custom embroidered clothing.
We offer a wide selection of styles and designs for custom embroidered hoodies and custom embroidered sweatshirts, as well as T-shirts, polos, outerwear, button-ups, and more.
Embroidery was traditionally done by hand, a time-consuming and exacting process. Today, we have revolutionized the process so we can make large volumes of custom embroidered pieces to order. This is the most common print method used today for lasting, comfortable, and visually appealing apparel.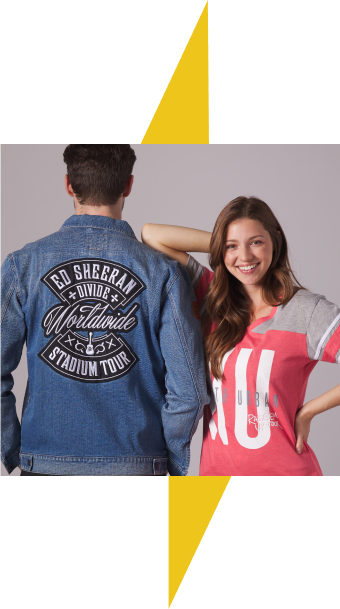 Custom Embroidered
Clothing
Embroidered branding and other features on clothing provide a distinctive and stylish look to clothing. Embroidery can be applied to most clothing and it is durable, vibrant, and perfectly suited to your logo, text, or image. You select from our array of color options, base garment types and styles.
Thunderwear™ provides premium embroidery services for:
T-Shirts
Jackets
Streetwear
Workwear
Uniforms
Corporate apparel
Sweatshirts
Polo Shirts
Hoodies
Headwear
Bags
and more…
Whether you seek to create a custom embroidered hoodie, tee, or a custom embroidered sweatshirt, we can help you bring your original design vision to life with the highest quality products available. You simply provide us with your design idea or existing logo, or we can work with you to design your logo or another graphic on your behalf.
We also custom embroider employee and team member names on clothing as per your requirements.
How is
Thunderwear™ Different?
We bring our unmatched experience, insight, branding expertise, and creativity to your custom clothing. Our state of the art embroidering technology is second to none and we guarantee you will be delighted with the results we deliver.
Look no further than Thunderwear™ today to make a fantastic impression with logo embroidery for apparel. Contact us to explore your options and get the ball rolling on your project.
Let's Get Started